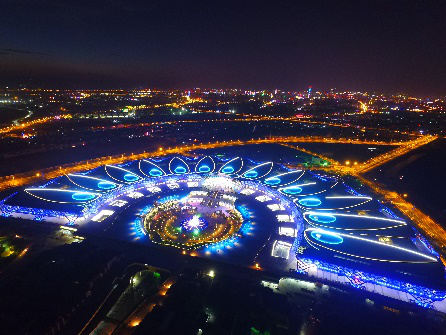 Kunming Dianchi International Convention and Exhibition Center
Completed and put into use in 2015, Dianchi International Convention & Exhibition Center (DCEC) covers an area of about 2331 mu, with a construction area of 5400,000 square meters, which is ranked third in China and first in Southwest China. DCEC is a well-equipped modern urban complex with diversified function of convention and exhibition, tourist services, leisure and entertainment, vacationing, as well as trade and business. It has 23 exhibition halls with 300,000 square meters of indoor space, including 200,000 square meters of 13 column-free halls and 100,000 square meters of 10 halls with pillars, which can hold 15000 international standard booths. Its outdoor exhibition space is about 100,000 square meters.
View details →

Kunming International Convention and Exhibition Center
Established in 1992 with a floor area of 225,000sqm and a construction area of 240,000sqm, Kunming International Convention and Exhibition Center has seven large-sized isolated indoor exhibition halls with an exhibition area of 50,000sqm and an outdoor exhibition area of 20,000sqm, enough to house 2500 standard booths. Hosting more than 50 exhibitions annually, it is one of the earliest well-known convention and exhibition centers in China that integrate exhibition, convention, catering, property management, hotel, fitness & entertainment and other comprehensive service functions. It is a member of International Association for Exhibition Management (IAEM) and the vice-chairman unit of China Association for Exhibition Centers (CAEC). It has been awarded the "AAA Certificate of Corporate Credit Level" by CAEC for many years. In 2004, it became one of the first exhibition enterprises in China that were accepted by the ISO9001:2000 quality system certification.
View details →

Hainan International Convention and Exhibition Center
Hainan International Convention and Exhibition Center, as a landmark in Haikou, is a multi-functional complex integrating conference, exhibition, hotel, recreation, commerce and residence. With a total area of 721mu, it is located on the west coast of Haikou, closely adjacent to Qiongzhou Strait. Enjoying an accessible traffic network, it is only 15-minute drive to the downtown, 40-minute drive to Haikou Meilan International Airport, and 10-minute drive to Haikou Train Station. A forest of starred hotels are within the range of 5-10 minutes' walk. It is close to large-sized commercial plazas, allowing visitors to enjoy the fun of shopping, recreation and cuisine.
View details →